GrassBlade xAPI Companion plugins allows uploading HTML5, xAPI and SCORM Content .zip packages on WordPress. It also supports Advanced Video Reporting on WordPress, you can use YouTube, Vimeo, MP4, HLS .M3U8 and MP3 content.
For these content, you can use URLs or directly upload videos as xAPI Content on WordPress with GrassBlade xAPI Companion.
Supported Upload Methods:
Direct Upload (HTML5, xAPI, SCORM, Video and MP3 files/packages)
Dropbox Import
Bulk Upload Method
FTP Method
You can use any of these methods according to your need.
1. Direct Upload Method
You can upload xAPI Content (HTML5, xAPI, SCORM .zip files) from right inside the WordPress dashboard.
Go to WordPress Dashboard > xAPI Content > Add New to add a new xAPI Content.
Watch this video:
Learn More: Direct Upload Method
2. Video and .MP3 Files Upload
GrassBlade xAPI Companion allows adding videos as xAPI Content. It uses the xAPI Video Profile standard approved by ADL for Advanced Video Reporting. You can use video URLs or directly upload video files on your WordPress hosting.
These are supported formats:
V

imeo

Wistia
YouTube
MP4, HLS (.M3U8) and MP3 hosted on your server.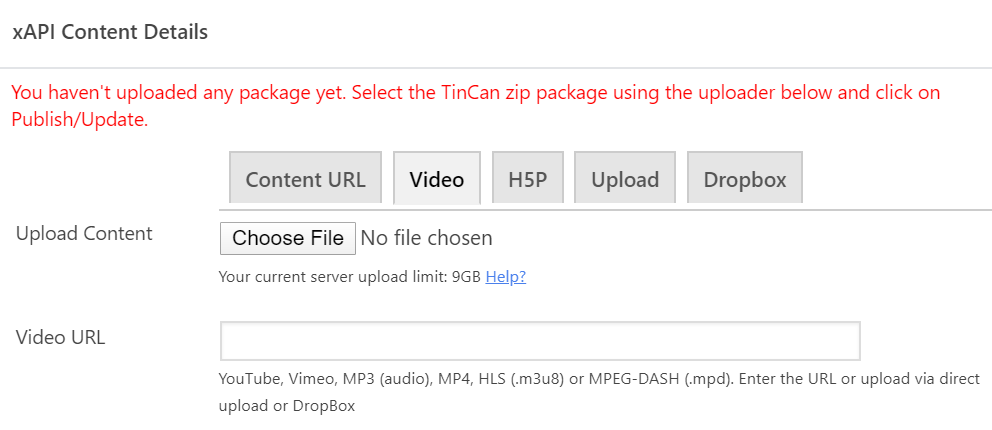 Learn More: Adding Video as xAPI Content
3. Dropbox Import
Some hosting providers do not allow uploading large files from the WordPress Dashboard. To overcome this issue you can use Dropbox to upload and import files to WordPress site in just one click.
Learn More: Import files from Dropbox
4. Bulk Upload
If you have many package and files to upload as xAPI Content, you can use this method. It uses FTP or hosting file manager to upload files. Once you upload files to your hosting, you can edit xAPI Content settings from the WordPress dashboard.
Learn More: Bulk Upload method
If you're facing any issues while using any of these methods or uploading content, feel free to contact us.